"SEQENS 4 the Future" event
An event entirely dedicated to CSR and Sustainable Development
SEQENS first internal event entirely dedicated to CSR and Sustainable Development took place on October 28. The objective was to bring together employees around a priority topic for the group: CSR.
This was an opportunity for Pierre Luzeau, CEO, to reaffirm the strategic importance of CSR within the group:
As an integrated player in pharmaceutical synthesis and specialty ingredients, SEQENS must comply with and exceed the highest standards in terms of quality, safety, regulations and social practices. The group must also reduce its carbon and environmental footprint and create sustainable value through innovations and environmentally friendly technologies promoting the circular economy and green chemistry. This is our responsibility and our priority.
Through presentations by Sophie Flak (Eurazeo), Aurore Friès (France Chimie), Alain Goasgen (Sanofi) and Marc Labeille (Seqens ExOp -CSR Director), employees were given an overview of the many CSR initiatives that have already been carried out and those that are still to come. Those initiatives aim at meeting the CSR challenges for the pharmaceutical and specialty ingredients industries. This is an essential reminder in an environment where expectations in terms of sustainable development are increasingly high and where the integration of these CSR issues is becoming a prerequisite to continue producing and serving our customers.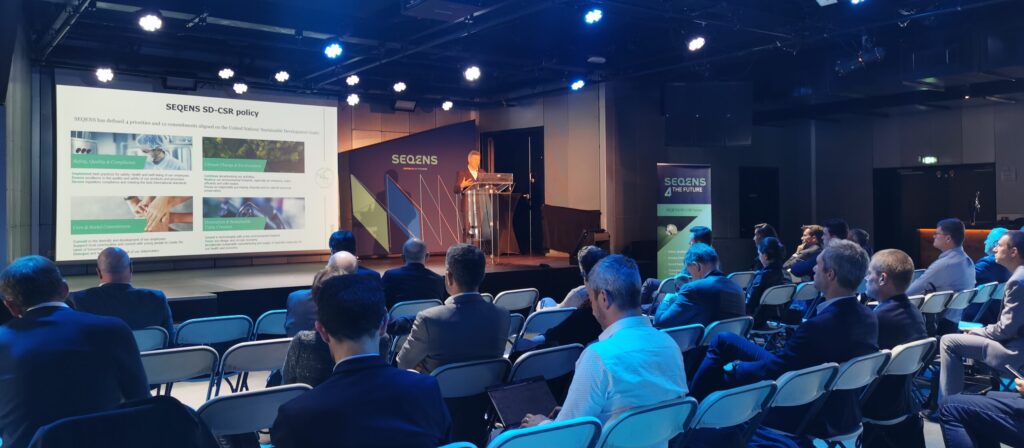 Celebrating ambitious projects that have a positive impact on the group's 4 CSR pillars
The SEQENS 4 the future Event was also an opportunity to reward the most relevant internal projects having a long-term beneficial effect.
Since 2014, Seqens has organized a trophies ceremony awarding projects related to sustainable development. This year, the seventh edition took place with the presence of all the group's executive managers and support functions, as well as employees from the AURA region. The event was broadcast live for people who could not be there.
This SD-CSR Trophies ceremony is an opportunity to share best practices, to reward the best initiatives at group level and to congratulate the teams who are working to improve our impact.
Projects were eligible in 4 categories corresponding to the 4 pillars of our CSR policy:
Safety, Quality & Compliance
Climate Change & Environment
Care & Social Commitment
Innovation & Sustainable Value Creation
Each year, an internal jury chaired, for the past 5 years, by Sophie Flak (Managing Partner of Eurazeo – Digital & CSR) elects the most remarkable and impactful projects, based on criteria that reflect the 12 commitments defined in Seqens' Sustainable Development strategy.
Increased participation in the "Sustainable Development" Trophies shows a real commitment from Seqens employees. In 2021, 41 projects were submitted and 8 of them were rewarded.
The 2021 winners of the SEQENS CSR and Sustainable Development Awards are…
Safety, Quality & Compliance
CAPA process improvement – CDMO – Limay site (France)
Optimization of flammable stocks – Advanced Specialties activity – Couterne site (France)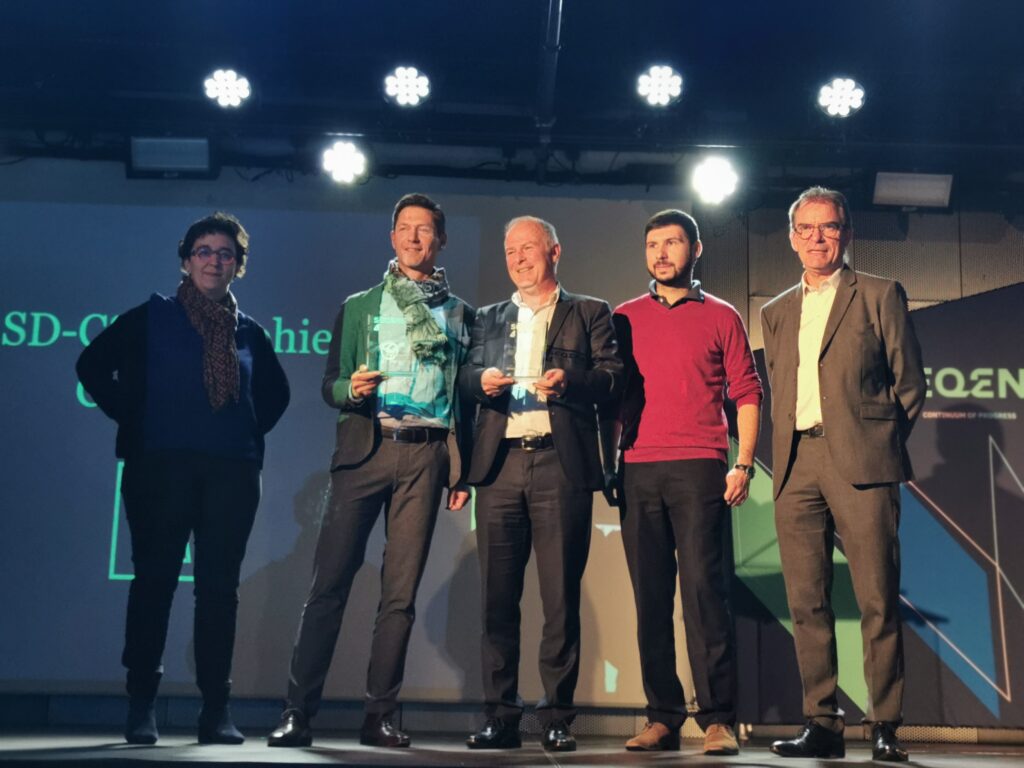 Climate change & Environment
Methanol recycling – Advanced Specialties – Saint-Jean-sur-Richelieu site (Canada)
EHS Plan targeting A energy classification – Essential Drug Substances – Wuxi site (China)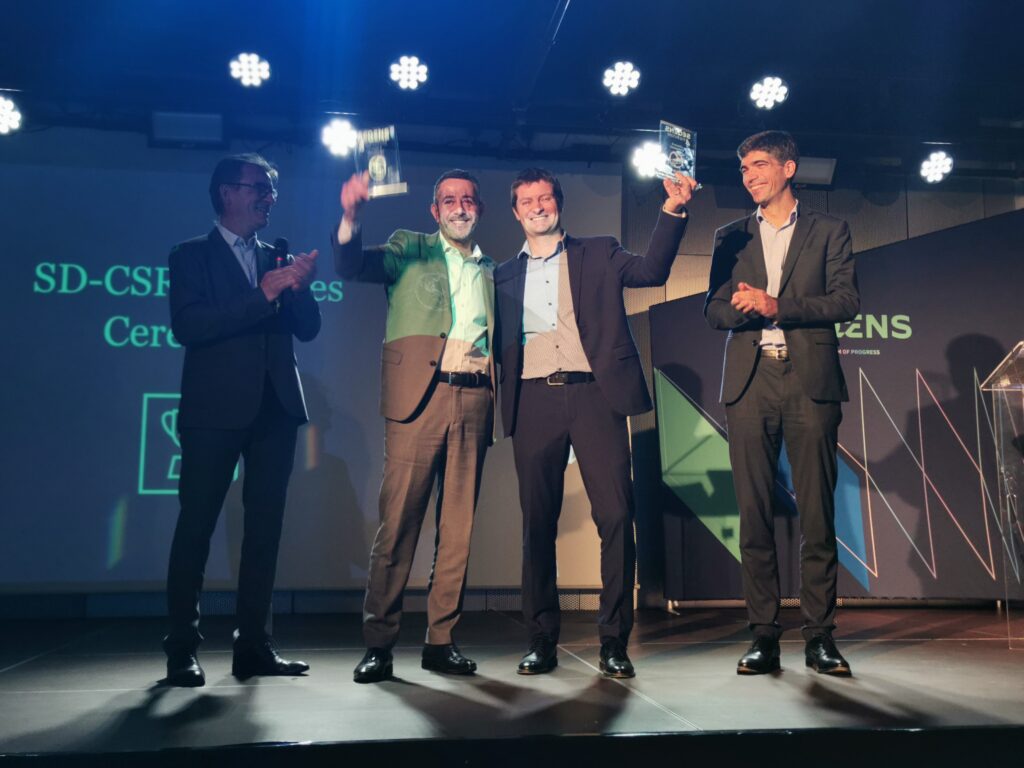 Care & Social Commitment
Commiting with young people – Headquarter – Ecully site (France)
Disability Mission – SPS activities – Roussillon site & Mineral Specialties – La Madeleine site (France)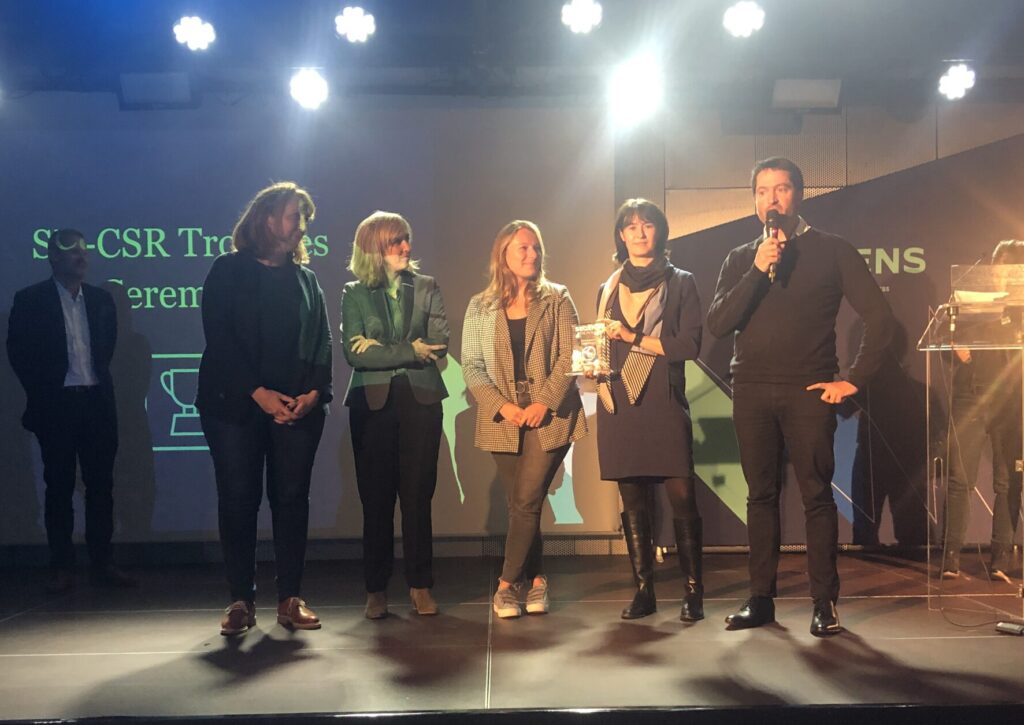 Innovation & Sustainable Value Creation
SEQENZYM® for Green (-)Vince Lactam (collaborative project) – SEQENS'Lab, Protéus and Advanced Specialties – Porcheville, Nîmes and Couterne sites
Formic Acid Recovery for ChemoxyCare range – Custom Specialties – Billingham site (UK)