Protéus by Seqens is now certified Gold Ecovadis
Protéus-By-Seqens team, located in Nîmes (France), is pleased to announce having achieved the "Gold" level following the evaluation of its Corporate Social Responsibility (CSR) performance by EcoVadis.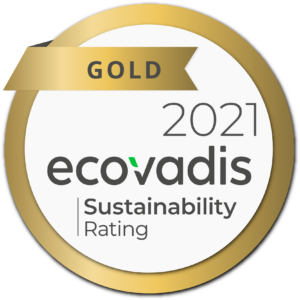 As a reminder, the EcoVadis evaluation method is based on 21 criteria and 4 themes (Environment, Fair Working Conditions, Business Ethics and Supply Chain). It is based, among others, on international standards of sustainable development, in particular the Global Reporting Initiative, the United Nations Global Compact and ISO standards (90001, 45001, 14001, …).
AN ASSESSMENT THAT BOOSTS THE SITE'S COMMITMENT
The Seqens Nîmes site's objective was to improve its previous score of 52/100 (Silver level). To achieve this result, Nîmes Teams were organized to dedicated action items demonstrating top achievement in the areas of Quality, Safety/Environment/Health, Human Resources. In a few weeks, the latter, with the support of the Corporate CSR team, was able to carry out a quality work which allowed to obtain a score of 68/100, synonymous with the Gold level, thus positioning Seqens R&D Nîmes site in the TOP 4% of its sector of activities, according to the EcoVadis referential.
This "Gold" level is a true recognition of the work and daily commitment of Protéus teams who have been able to structure themselves to better highlight their CSR good practices in the management processes of their activities.
With this result, now 17 of the 22 Seqens entities evaluated have obtained the "Gold" level or more, placing them in the TOP 5% of EcoVadis referenced companies in their sector of activity. The group join the corporate CSR management in congratulating all the teams of Protéus for this excellent result and wish the 6 remaining entities "to take" the same path in the near future