Process safety management
Controlling technological risks is our top priority. In order to guarantee a high level of safety and to reduce risks to the lowest possible level, Seqens relies on a rigorously applied organization and specific provisions.
Firstly, each country has regulations aimed at controlling industrial risks. These regulations are strictly applied in all the Group's plants.
In France, the regulation is based on two main lines of action:
Many technical safeguards are directly applicable.
A hazard study is drawn up; it characterizes the major risks of each activity. Consequences and probabilities are evaluated according to strictly defined criteria. Safety measures are defined and implemented to reduce the risk to a very low level.
In addition to regulatory requirements, Seqens deploys an HSE management system on its sites that integrates process safety and is based on several inseparable pillars, as illustrated below: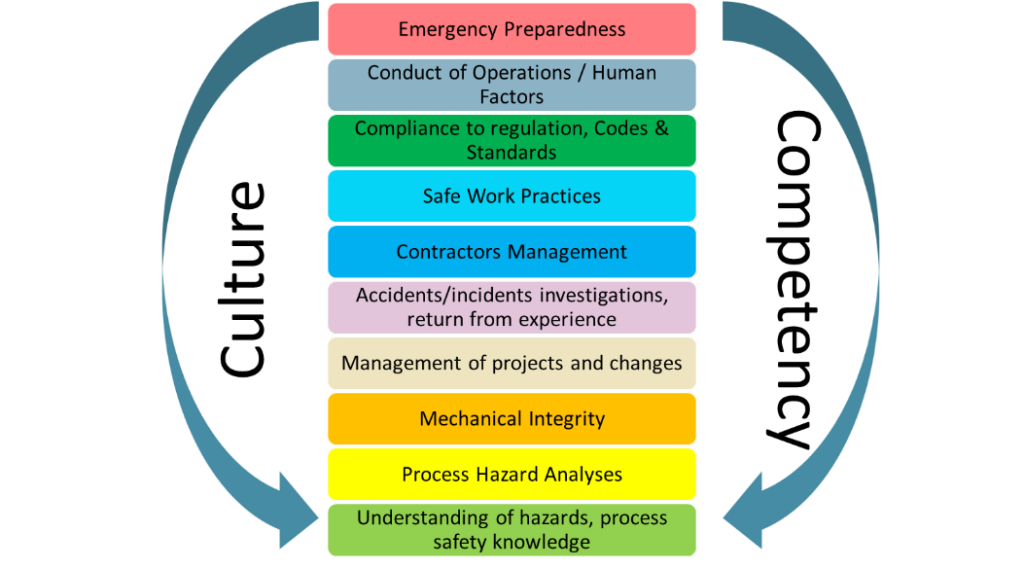 Risk analysis is at the heart of this management system. It is based on a wide range of basic data, including studies by the process safety laboratory.
The risk analysis is based on a specific and systematic methodology, which enables the identification of all process drift scenarios that could lead to consequences on people, the environment or property.
The safety barriers that are essential to risk control are identified and their effectiveness is verified.
Mechanical integrity programs are deployed. They have the following objectives:
To ensure that the process equipment and piping used for the processing of hazardous products are maintained in good condition.
To guarantee the reliability of the technical safety barriers by means of an adapted preventive maintenance, inspection and testing program.
Any modification to a system or a safety barrier can cause a regression in the level of risk control. To avoid any drift over time, a system is in place to ensure a systematic review and approval prior to any change.
All significant accidents and incidents are analyzed and steps are taken to prevent their recurrence. This data, known as "return of experience", is taken into account in risk analyses.
If, despite all the preventive measures in place, an accidental event should occur, our teams are trained and prepared to manage emergency and crisis situations in order to limit the consequences. Emergency response plans are drawn up in advance in collaboration with the authorities and public rescue services. They are subject to regular exercises.