Meeting with Yael Gofni for the International Women's Day
For the International Women's day, SEQENS highlights the career path of inspiring women working within the group. Meet Yael Gofni analytical expert, planning and control manager.
What is your job as Analytical expert, planning and control manager?
I am responsible for a department in the R&D that contains 3 expert groups – Solid state team, Mass Spectra Lab and Analytical team that mainly deals with commercial products (Deficiencies, Troubleshooting, Pharmacopoeia, Methods validations). Our department supports the production but also the R&D teams.
I am also responsible for planning and control of the R&D budget.
Last but not least I serve as the project manager of the R&D projects as well as of some CMO/CDMO projects. In this role I take care of the cooperation and coordination with the other disciplines of the plant.
Have you always wanted to work in the scientific field?
Yes! At school I loved the scientific subjects (Mathematics/ Biology/Chemistry) in contrast to the other disciplines (Literature/History). These lessons were very interesting, and I achieved higher grades in these fields.
What is your training and career path?
I studied chemistry at university and once I completed my MSc, I started my career path in pharmaceutical R&D. I began as an analytical researcher – this role combined my passion of chemistry and mathematics. A few years later I was promoted to be an analytical R&D group leader. A job that combined my scientific skills with my love for working with people. This position built my managerial skills.
After a few years later, I was appointed to be an analytical department manager where I implemented all my knowledge and experience and continued to be exposed to scientific challenges.
During this time, I also served as Project Management Officer (PMO) where I was exposed to the entire projects' activities, not only in the R&D but also in other fields such as Production, QA, S&M etc.
Today, I continue to serve in these 2 positions, where I find great interest and satisfaction from working within the R&D and being exposed to all scientific challenges and development and in parallel managing the projects with all the plant interfaces.
Do you have any advice for women who want to join this field?
Success depends on our ability to go forward with no hesitation, to believe in our capabilities and to be honest and transparent. We should express what we believe in a clear way and not be afraid of any negative feedback.
Tell us about a project/success story you are proud of
Over my long professional career, I have had many success stories, but also some failures, and If I look back on these failures – I can say that they also built me as a scientist and a manager and contributed to whom I am proud to be toady and to my success.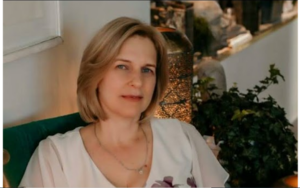 Success depends on our ability to go forward with no hesitation, to believe in our capabilities and to be honest and transparent