Futurol's first contract for a second-generation ethanol plant in Croatia
AXENS and the Croatian oil company INA announced on 09 March 2020 an agreement for the construction of a 55 kt/year second generation (2G) ethanol production unit on Croatian territory.
2nd generation process for ethanol production
The FUTUROL consortium, which brings together the players who have been involved in this French 2G ethanol project, mandated AXENS, a catalyst specialist, at the beginning of 2019 to market the technology. Protéus by Seqens previously participated in the development and improvement of enzymes used by the FUTUROL consortium to deconstruct lignocellulosic biomass.
As a reminder, 2G ethanol processes consist in the production of ethanol from non-food biomass composed in its large majority of lignocellulosic material, i.e. cellulose, hemicellulose and lignin. The biomass is first pre-treated by physico-chemical means. It is then hydrolysed using a cocktail of cellulolytic enzymes to obtain simple fermentable sugars, mainly glucose and xylose. Alcoholic fermentation is then, or concomitantly, carried out by highly productive yeasts specially adapted to the medium to produce alcohol (ethanol).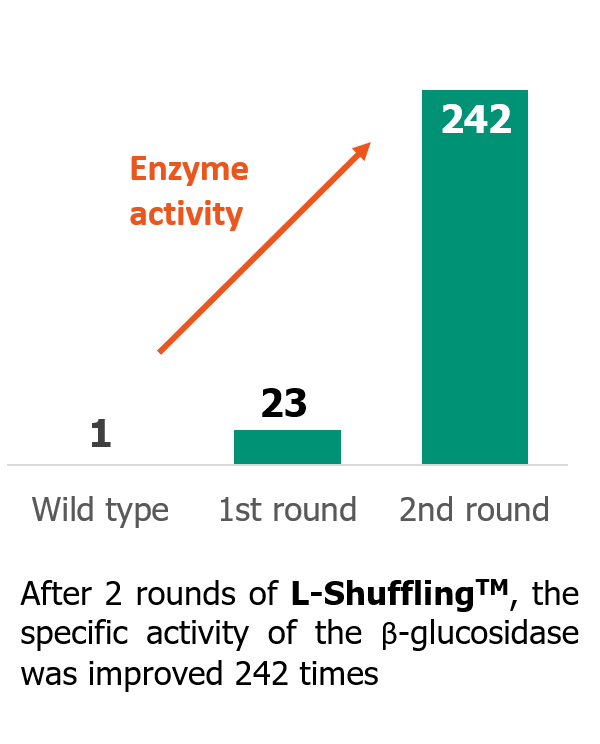 protéus' enzymatic cocktail reduces the cost of the process
Protéus has developed jointly with the Institut Français du Pétrole-Energies Nouvelles (IFPEN), a pillar of the Futurol consortium, enzymatic cocktails with the objective to make them as active as possible and thus reduce the cost of the 2G ethanol process. Enzymes are indeed key to produce ethanol at the lowest cost. The improvement of enzymes has been achieved by Protéus through one of its patented directed evolution technologies, L-ShufflingTM : the activity of one of the key enzymes was improved by a factor of 242.
Protéus and IFPEN have also adapted and improved all the active enzymes so that they can be used during ethanolic fermentation at the optimal temperature for yeast growth. These cocktails have an improved performance compared to cocktails developed by other international companies. The improved enzymes have been the subject of patents filed and granted in many countries.
The significant improvement of cellulolytic enzymes for the 2G ethanol process is a good example of what Protéus can bring to its clients using its proprietary directed evolution technologies (EvosightTM and L-ShufflingTM), which have demonstrated their ability to evolve limiting enzymes to achieve optimal performance.
What is L-shuffling ?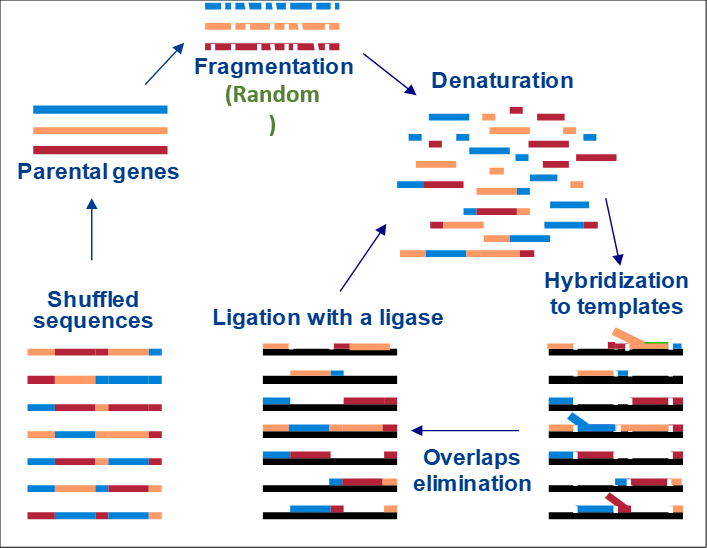 The term "gene shuffling" covers a group of directed evolution technologies that allow to create new products through random genetic recombination. These protein engineering technologies mimic a strongly accelerated natural evolution.
Parent-genes are crossed amongst themselves in a random fashion in order to create a new generation of genes. This pool of new genes contains interesting combinations that code for improved proteins. These new combinations are selected and the recombination/selection cycle can be repeated as many times as necessary.
Protéus's L-shufflingTM technology is particularly powerful since it is compatible with very long sequences.
More in information about Protéus: https://proteus.seqens.com/