Meeting with Virginie Tarlet for the International Women's Day
For the International Women's day, SEQENS highlights the career path of inspiring women working within the group. Meet Virginie Tarlet Roussillon Lab manager.
What is your job as Roussillon Lab manager?
The Roussillon laboratory is in charge of the product analysis of the French Consumer Health API sites of SEQENS. As the manager of this laboratory, I manage all the activities of the lab. I am responsible for its proper functioning in compliance with the reliability, quality, time and safety requirements.
I therefore take part in a wide variety of missions: human, technical and organizational.
Human, because I manage about ten people, I promote team cohesion and I ensure that all the employees are well trained and that they develop within the department.
Technical because I have to make sure that the material resources are in accordance with the laboratory's requirements. I must also maintain a good level of expertise to provide technical support to the team when needed.
Organizational because I have to manage and supervise the activities. I make sure that we have all the tools at disposal so that the organization is functional in order to be in phase with the lab performance requirements.
Have you always wanted to work in the scientific field?
I hesitated for some time with a literature degree, but I finally chose the scientific field in high school. Today, I am delighted with this choice which allows me to work in a job requiring technical expertise, which I find very challenging.
What is your training and career path?
I have a master's degree in analytical chemistry and quality. I started my career as a laboratory technician. It is, for me, very important to have been able to exercise a position at the bench. It allowed me to understand the work in a laboratory. I then worked as Project Manager and Analytical Development Manager before joining Seqens as Laboratory Manager.
I worked in different fields: pre-clinical (on pharmaceutical and chemical molecules in development phase), manufacturing of finished pharmaceutical products (on dry forms such as tablets, capsules… but also liquid forms such as syrups, nasal sprays…).
Today at Seqens I work on pharmaceutical actives.
Do you have any advice for women/girls who want to join this field?
I would advise them to follow their instincts. The field of analytical chemistry and the laboratory offers a lot of opportunities for women (and men too for that matter).
You have to be curious and persistent to evolve and find your place in this field.
But it is a sector that is very rewarding and is worth paying attention to. It is important not to put up any barriers. It is also sometimes necessary to show courage to seize professional opportunities when they arise but it is always worth it. This is how we grow and are enriched by new experiences.
Tell us about a project you are proud of
The project I am very proud of is the creation of the Roussillon laboratory. We started from scratch to build this lab. I worked on the plans, the investments in material, the constitution of the team, the setting up of all the equipment, the softawres (about 60) and the analytical techniques.
We also had to think about the daily organization, anticipate the tools we would need, think about all the flows to be implemented.
It is a real professional opportunity to be able to follow such a project from A to Z and to take part in many tasks that people don't have the opportunity to participate in when joining a department already in operation.
The creation of the Roussillon lab was a very stimulating challenge sometimes a bit little stressful but ultimately very fulfilling.
Today, the whole team that participated in this beautiful project is proud of the work we accomplished together. It helped us to build a solid foundation for our team cohesion.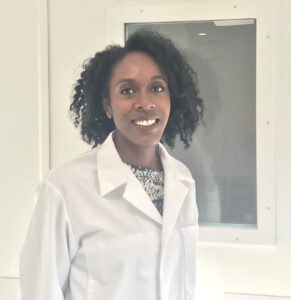 The field of analytical chemistry and the laboratory offers a lot of opportunities for women