Meeting with Aïna Queiroz for the International Women's Day
For the International Women's day, SEQENS highlights the career path of inspiring women working within the group. Meet Aïna Queiroz, Head of innovation and scientific communication at SEQENS.
What is your job as Head of innovation and scientific communication?
To put it simply, my job consists in orchestrating the boarding and landing of the creation of new cosmetic active ingredients, while following the main steps during the trip to ensure a smooth flight!
Before we take off, we first define the scientific territories we want to explore and that will be unique to us. These are our innovation platforms. Exposome, Neurosciences, Longevity, Biomimetics, Ethology are our daily drivers to discover new molecules of natural origin through this process. We can deepen these advanced domains through the identification of cutting-edge scientific partners (researchers, experts) who will bring us their insights.
Then, we explore all the possibilities given by the living world to find new plants that will be at the core of our next developments. At this phase, my role consists of embodying advanced research by directly carrying out field studies: for instance, I have the chance to meet and interview centenarians all over the world, in 'blue zones', to discover the plants that have always been part of their diet -and that could contribute to their longevity- as well as their rituals for healing themselves. This is how we discovered plants with amazing active molecules in the heart of Okinawa's biodiversity (Japan), in Sardinia and in Costa Rica.
After identifying these plants, a whole group of women with complementary skills surround me daily so that we can give shape to these ideas and progress together, from the sourcing through to highlighting the biological efficacy, while ensuring sustainability at each stage: Julie, Cathy, Pauline, Marie-Alex, Cécile, Rand, Emeline, Darcy, Carine and Agathe, to name just a few!
Once this teamwork has given birth to an active ingredient full of possibilities, my role is to make this research project visible and meaningful through conferences, articles or scientific posters.
Have you always wanted to work in the scientific field?
At a very young age, I was fascinated by the history of dinosaurs and could spend hours watching monkeys evolving in their habitat. But for a long time, I was also perplexed by the lack of female role models in science. And yet, after the famous example of Marie Curie (who is rarely cited without Pierre), talented women have not been lacking throughout the history of science. It was after reading a book by the ethologist Jane Goodall that I confirmed my desire to become a biologist and to study other living species aside from humans.
What is your training and career path?
After studying biochemistry, I started my career as an academic researcher in genetics and plant biotechnology: I did my first scientific explorations at the Institut des Sciences du Végétal (Institute of Plant Science), within the CNRS.
Soon enough, I felt the desire to challenge myself within the private research sector, to follow the outcome of my research through applications, which gave me the opportunity to develop my first active ingredients for the nutrition and cosmetic sectors at Solabia. In 2014, I was offered a position as head of R&D at ID bio, now known as Seqens Cosmetics, and for which I am currently leading the innovation and scientific communication strategy. Throughout my career, I also specialized in ethnobotany (human-plant relationships) and primatology at the National Museum of Natural History in Paris to better understand how animals heal themselves.
Do you have any advice for women/girls who want to join this field?
I encourage them to feed their own curiosity and their different passions all along their career!
It is often a point of differentiation to be interested in other topics than the one we are professionally focused on: it maintains an open mind and sometimes you can even transfer your passion into your work. Who could have known that my obsession for monkeys at 3 years old would find its place in the development of cosmetic actives 30 years later?
So, preserve as much as possible the enthusiasm that keeps you passionate about new themes and you will never feel like you are making a painful effort while working.
To be honest, I regularly meet the next generation by teaching at the university and by participating in initiatives to promote women in science, and I do not need to worry about this: there are still so many talented women who will find their place!
Tell us about a project you are proud of
The first large-scale research project we initiated with a small team at the Limoges site was to find an opening for co-products, raw materials not used by the food industry. This led us to focus on saffron flowers in partnership with a leading French luxury cosmetics brand. Only the pistil, the red filaments found in the middle of the flower, was harvested for the spice, the rest was discarded by the saffron growers or used in ephemeral decoration.
We set up a local network of organic saffron farmers in the Limousin region and identified molecules particularly effective in enhancing skin barrier function, decreasing inflammation and modulating certain pain receptors such as TRPV1. This active was so successful that we quickly had to expand it and mobilize a whole network of farmers in France, who were delighted to be able to earn a supplementary income from their saffron farming activities. Today, this ingredient is a best-seller used in many formulas around the world and we are proud to imagine that many sensitive skins are soothed thanks to this sustainable research project.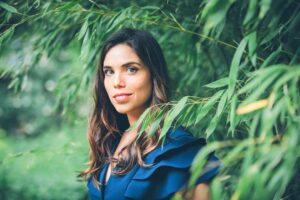 Preserve as much as possible the enthusiasm that keeps you passionate about new themes and you will never feel like you are making a painful effort while working