Safety, Quality & Compliance
Implement best practices for safety, health and well-being of our employees
Our activities in the development and manufacturing of active pharmaceutical ingredients and specialty ingredients have one thing in common: They are a source of potential hazard for the environment, for the populations living near the plants, and most of all for the personnel involved in the daily operations of production, maintenance and logistics.
From then on, the central objective always remains the same: "Risk control", at all times, at all levels, in all circumstances.
Ensuring health and safety at all our sites means preserving our most important asset: the men and women who make up the company. This is why we make it an absolute priority.
SEQENS works continuously to prevent serious work-related accidents. To regulate and secure high-risk activities, standards have been established and deployed consistently across all group entities. At the operational level, SEQENS invests 10 million per year on EHS projects.
We focus our attention on the prevention of serious accidents. All our production sites are regularly audited, inspected and visited. The findings are used to establish the annual HSE action plan. The improvement plan is based, in particular, on the following areas:
Reinforce good safety practices at work, particularly in the management of subcontractors, procedures for (un)consigning, line breaks, access to confined spaces, etc.
Conduct a detailed risk analysis procedure (HAZOP) to identify risky operations
Implement best practices and recognized engineering standards
All the measures taken in terms of occupational health and safety have led to a significant decrease in the frequency rate of the SEQENS Group over the 2018-2021 period from 5.4 to 2.7, which is considerably below the chemical industry's sectorial frequency rate. SEQENS wants to go further with an objective of less than 1 in 2025.
Evolution of SEQENS Group's Frequency rate (cat. 1)
(subcontractors employees included)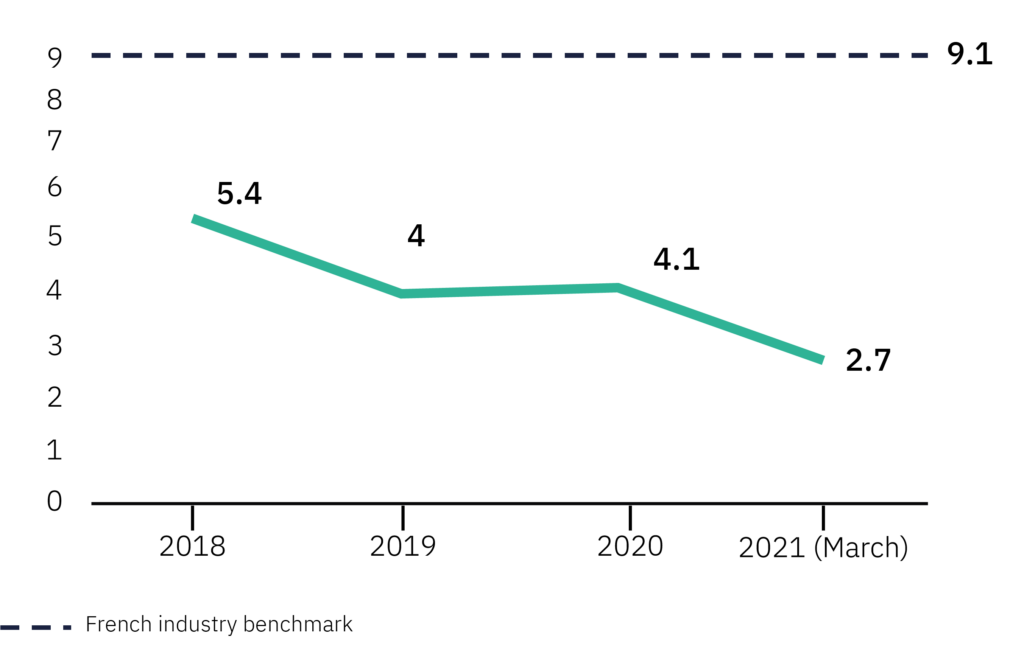 Ensure excellence in the quality and safety of our products and processes
SEQENS stands out, not just for the high level of quality of our products, but also for our culture of excellence, offering our clients the best service, thanks to the responsive approach and reliability of our team in addition to a very high level of compliance and certifications of products and facilities.
SEQENS distinguishes itself not only through its high level of product quality, but also through its culture of excellence that aims to offer its customers the best service thanks to responsive and reliable teams and a very high level of compliance and certification.
To ensure that SEQENS products are consistently delivered safely and reliably to customers, SEQENS is committed to:
Managing operations with a comprehensive quality management system that complies with international standards, applicable regulations and guidelines (cGMP, ISO, REACH);
Remaining constantly attentive to customers' expectations to ensure their satisfaction and develop new partnerships;
Effectively and sustainably managing relationships with our stakeholders and suppliers;
Perform operations guaranteeing the quantity and safety of the products;
Continuously improving the efficiency and reliability of all our activities;
Developing the skills, abilities, behaviors and effectiveness of our people through individualized support and training.
To provide our clients with the best quality processes and global standards, our manufacturing sites are regularly evaluated and subject to numerous certifications.
Secure regulatory compliance and meeting the best international standards
Seqens is subject to several anti-corruption and anti-money laundering regulations, including Law n°2016-1691 of 9 December 2016 on transparency, the fight against corruption and the modernization of economic life (Loi Sapin II).
In addition, Seqens also complies with international trade regulations, including prohibition and restriction programs.
International standards concerning environment, labor, competition or trade secrecy are also strictly observed with the Group.
Finally, Seqens also complies with the requirements of the General Data Protection Regulation (EU) 2016/679 (GDPR).
Seqens Code of Ethics
The Seqens Code of Ethics is at the heart of our compliance programme. It guides our business conduct, requiring that we always act with integrity and respect core values of the Group in all companies operations.
The Seqens Code of Ethics comprises two parts: the Code of Conduct which establishes the rules relating to the fight against corruption and influence peddling, and the Ethics Charter, which sets out the main ethical principles and fair business practices that the Group undertakes to respect.
All our employees must act in accordance with the Code of Ethics and follow its requirements and business framework. Everyone who works for or on behalf of Seqens must adopt and promote exemplary conduct in accordance with these principles.
To ask questions, raise concerns, and seek approval and guidance for specific situations, please contact us at codeofconduct@seqens.com.