Specialties
Diisopropyl Ether Premium Grade (Specialty Solvent)
Technical characteristics
Diisopropyl Ether Premium Grade (Specialty Solvent)
MOLECULAR MASS: 102.18 g/mol
EMPIRICAL FORMULAR: (CH3)2CHOCH(CH3)2
ASPECT: COLOURLESS LIQUID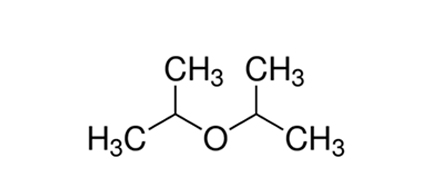 Hight quality products
Seqens broadened its range of high quality products with the startup of a new production unit of manufacture of DIPE (Diisopropyl Ether) in 2017.
Seqens is continuing its development strategy for high added-value products with the launch of a new on-purpose Diisopropyl Ether (DIPE) unit. The new fully upstream integrated plant was designed using an innovative, environmentally-friendly and energy-efficient process.
DIPE will increase the range of oxygenated solvents already produced by the division, including, in particular, Isopropanol, Acetone, and Isopropyl Acetate, which was launched at the end of 2014 and earned the group the Pierre Potier prize for scientific and technological innovation.
Widely used as an extraction solvent in the pharmaceutical industry for manufacturing specific active ingredients, DIPE also plays a role in the manufacturing process of numerous solvents used for resins and coatings, as well as in waste management.
The plant, built on the Roussillon chemical platform, is having a production capacity of circa 5000 tons. This production unit is an integral part of the Seqens strategy to become a leader in chemical and life sciences, with a priority development focus on pharmaceutical industry markets.
Certifications
ISO 9001
ISO 14001
ISO 50001
OHSAS 18001
EcoVadis CSR Rating Platinum medal
Our location
Address
Novapex, Plateforme Chimique, Rue Gaston Monmousseau, CS 50032, Lieu-dit le Roussillon
38556 Roussillon
Business Line
Phénol, Alphaméthylstyrène Acétophénone, Acétone Isopropanol, Acétate d'Isopropyle, Di Isopropyl Ether
Market
Specialty ingredients
Email
Info_PerfChem@seqens.com
More information
Capabilities: 
185 kT Phenol
70 kT Isopropanol
27 kT Acétate Isopropyle
5 kT DIPE
Certifications: 
ISO 9001
ISO 14001
ISO 50001
OSHAS 18001