Cosmetics / Specialties
ChemoxyCare® 2EHG
Is a high-purity and low odour product and can be used for cosmetics as a moisturizer/emollient and has the additional benefit of possessing antimicrobial activity.
Technical characteristics
ChemoxyCare® 2EHG
Synonyms: 2-Ethylhexylglycerin
Appearance: Clear colourless liquid
Water content: Max. 0.20%
Specific Gravity:  0.940 – 0.960 g/ml @ 20°C
Refractive Index: 1.449 – 1.453 @ 20°C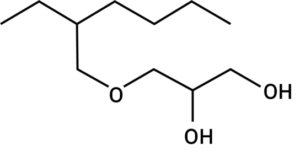 Applications
ChemoxyCare®2EHG (2-Ethylhexylglycerin) is a frequently used multifunctional additive. Besides its deodorant efficacy, it is an excellent booster of many traditional preservatives and other antimicrobial substances.
ChemoxyCare®2EHG is a very effective active component in deodorants and finds important use in preservative formulations due to its inhibiting effect on the growth of odour causing bacteria.
ChemoxyCare®2EHG enhances the antimicrobial efficacy of preservatives often used used in formulations, such as, phenoxyethanol, pentylene glycol, ChemoxyCare®8 (caprylyl glycol), or isothiazolinones.
Another similar product from SEQENS Custom Specialties that you may be interested in is ChemoxyCare®8 which is a primary ingredient in many Personal Care formulations.Combined with ChemoxyCare®2EHG, the synergystic effect gives a multifunctional cosmetic additive and combines the excellent skin care and deodorizing properties of ChemoxyCare®2EHG with the moisturizing and antimicrobial properties of ChemoxyCare®8.
Our location
Address
Chemoxy, Road 11 CF Fertilizer Process Park
TS23 1PY Billingham
Business Line
Specilaty Ingredients
Market
Cosmetic / Custom Manufacturing / Solvent Revovery / Own products
More information
Capabilities:
4 reaction vessels (316 L and Duplex 2205) of 25-35 m³ capacity with associated distillation columns of 6-30 plates
Glass lined reaction vessel (14 m³)
Flagship technologies:
 Primary Reactions
Esterification
Etherification
Epoxidation
Methylation/Methyl chloride capping
Quaternisation
Transeterification.
Secondary reactions
Acetal formation
Acetylation
Aldol condensation,
Alkylation
Diels-Alder
Hydrolysis
Isomerisation
Oxidation
Polymerisation
Solvent Recovery
Alcohols,
Amines
Aromatic solvents
Esters
Glycols
Ketones
Organic acids