Pharmaceutical
Acetylsalicylic Acid
Technical characteristics
Acetylsalicylic Acid
Solid state available : crystal, powder, granules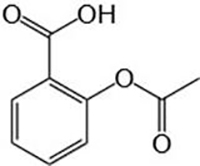 Our grades
Crystal grades
Nine grades of ASA crystal are manufactured within CHC production sites from coarse to fine particles.
These crystal grades can be blended with others ingredients, excipients and are suitable for various finished dosage forms such as sachets, tablets, capsules, chewable tablets…
Milled
2 grades of ASA powder are available from our sites.
Their excellent dissolution properties make them particularly suitable for effervescent tablets and suppositories applications.
Granular
Only dry granulation is suitable for aspirin as it is sensitive to humidity. 2 types of granular grades are manufactured within CHC : 100% ASA and 90% ASA granulates.
Both granulates type of products are compliant with US and EU pharmacopeias and exhibit excellent flow properties.
100% ASA granulates are particularly recommended for formulated tablets, high speed tableting machines and exhibit excellent dissolution.
The four grades containing 90% aspirin are directly compressible as is. They are suitable for slow or fast release and can be compressed with excipients and APIs.
Main applications
Anti-inflammatory
Analgesic
Antipyretic
Animal health
Cardiovascular diseases prevention (myocardial infection, strokes, arterial thromboembolic events, etc.)
Under study applications
Oncology
Effects of large magnitude on colorectal, esophageal and gastric cancers
Effects of smaller magnitude on breast, prostate and lung cancers
Anti-Phospholipid Syndrome (Hughes Syndrome)
Ref: Steven P. Dehmer and others, 'Aspirin for the Primary Prevention of Cardiovascular Disease and Colorectal Cancer: A Decision Analysis for the U.S. Preventive Services Task Force', Annals of Internal Medicine, 164.12 (2016), 777 <
Our locations
Address
Novacyl, Rue Prosper Monnet
69190Saint-Fons
Business Line
Acetylsalicylic Acid
Email
info.EDS@seqens.com
More information
Capabilities: 6 KT of Acetylsalicylic Acid
Certifications:
cGMP
ISO 9001
ISO 14001
OHSAS 18001
Address
Novacyl, 321 Bangpoo, IND Estate
10280 Samut Prakan
Business Line
Acetylsalicylic Acid
Email
info.EDS@seqens.com
More information
Flagship technologies: 
Continuous Acetylsalicylic
Acid Production Recycled
Salicyclic Acid (Industrial-grade)
Last inspections: 
USFDA, March 2018
TFDA, May 2018