Acetophenone is an organic compound. It is the simplest aromatic ketone. This colorless, viscous liquid is a precursor to useful resins and fragrances.
Technical characteristics
Acetophenone
MOLECULAR MASS: 120,06 g/mol
EMPIRICAL FORMULA: C6H5COCH3
ASPECT: COLOURLESS LIQUID
SOLUBILITY IN WATER AT 20°C: 5.5 G/L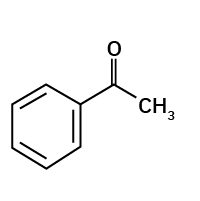 About
Very versatile chemical intermediate, used in a diversified range of applications, from Agrochemicals to Fragrancy; in the Pharmaceutical market, ACPH is a base intermediate to the production of decongestants and other important APIs.
Certifications
ISO 9001
ISO 14001
ISO 50001
OHSAS 18001
Our location
Address
Novapex, Plateforme Chimique, Rue Gaston Monmousseau, CS 50032, Lieu-dit le Roussillon
38556 Roussillon
Business Line
Phénol, Alphaméthylstyrène Acétophénone, Acétone Isopropanol, Acétate d'Isopropyle, Di Isopropyl Ether
Market
Specialty ingredients
Email
Info_PerfChem@seqens.com
More information
Capabilities: 
185 kT Phenol
70 kT Isopropanol
27 kT Acétate Isopropyle
5 kT DIPE
Certifications: 
ISO 9001
ISO 14001
ISO 50001
OSHAS 18001