Climate Change & Environment
Continue decarbonizing our business​
We are convinced that the fight against global warming requires the implementation of concrete actions at our industrial sites and relies on the capacity of our industry to innovate and to offer efficient and accessible low-carbon solutions over the long term. We are fully mobilized to accelerate our transition to a model that emits much less CO2. ​
​
A concrete reduction of gas emissions​
Over the last decade, SEQENS has reduced its greenhouse gas emissions by nearly 30% across its industrial facilities at constant scope. This major achievement for our group is the result of ambitious, concrete and engaging action plans deployed at its 24 production sites around the world and is an industry benchmark over a long period of time.​
To obtain such a result, SEQENS has focused its efforts on 3 axes:​
Reducing the energy intensity​
Reducing the energy intensity (energy consumption per unit of production) of all its manufacturing sites, thus getting closer to the benchmarks of our business sectors via:​
Energy efficiency plans aiming at reducing energy losses and recycling lower energy heat flows, more specifically, at our ISO 50 001 sites;​
Investments in innovative processes which efficiency enables the concerned sites to strongly limit their energy consumption, or even not consume so-called primary energy (new production units in Roussillon as an example);
Aligned with the commitments made in the French Climate Business Pledge in 2017 and renewed in 2020, the group has reduced on average the energy intensity (energy consumption per unit of production) of its production sites by around 20% within 10 years. This reduction can be explained by the implementation and monitoring of energy performance plans, benchmarks and investments in innovative processes​;
The transition to low-carbon energy​
The transition to low-carbon energy for our production units, by using renewable or recovered energy sources such as:​
The use of biomass for thermal energy production;​
Energy recovery on our industrial platforms;​
The installation of photovoltaic panels to produce green electricity locally;​
The electrification of some of our synthesis processes developed in our R&D centers where the use of low carbon electricity limits our consumption of fossil fuels.​
The transformation of our activities​
The transformation of our activities towards products with a lower carbon footprint and offering solutions to limit the environmental impact of our customers or support their energy transition (biocatalysts, solvent recycling, etc.).​
Future projects will allow us to continue to reduce the carbon intensity of activities (GHG emissions per ton of products manufactured) by 60% in 2025 compared to 2008. ​
SEQENS production carbon intensity​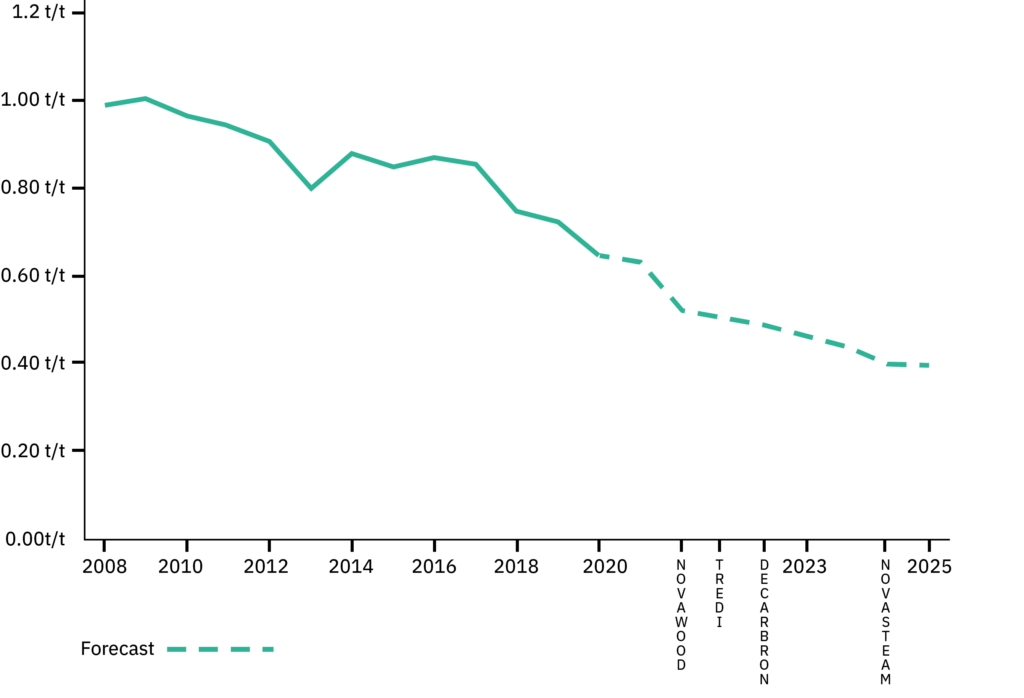 SEQENS' concrete projects to reduce its carbon emission​
Novawood
​The Novawood project is dedicated to the construction and operation of a biomass cogeneration plant at the industrial site of NOVACARB, a subsidiary of the SEQENS Group, in Laneuveville-devant-Nancy (54). This major energy transition project, launched in partnership with ENGIE Solutions and Caisse des Dépôts, should enable NOVACARB to take a first major step in the transition away from coal with an efficient combined green electricity and heat production facility. ​
The project is based on the circular economy. The biomass used will be made up partly of end-of-life railway sleepers (in partnership with the SNCF) and partly of waste wood from local collection channels in recycling centers.​
The facility construction, which began in 2020, will produce 370 GWh of green heat for SEQENS Mineral Specialties' process needs and 115 GWh of green electricity, equivalent to the consumption of 65,000 homes per year, by 2022. This project should enable the site to reduce its fossil CO2 emissions by 150,000 tons per year, which represents a 25% reduction per year. The site's annual coal consumption will be reduced by 40%. It is a major step towards the site's overall objective of moving away from coal by 2024, guaranteeing the sustainability of its activity over time, and helping to combat global warming in favor of the environment.
Novasteam​

NOVASTEAM is a project in line with NOVACARB's objectives to moving away from coal by 2024. In addition to the various energy transition projects already underway, including the construction and commissioning of NOVAWOOD (biomass cogeneration plant) in 2022, this new project will replace two additional coal-fired boilers with one new boiler producing energy from Solid Recovered Fuel.
DécarbRON​
Since 2011, the Roussillon chemical platform where SEQENS operates two of its facilities (SPS and CH APIs) has launched a vast plan for decarbonization and energy transition to move away from coal by 2022.​
The strategy deployed aims at increasing the share of energy from renewable sources or recovered heat from the platform's industrial processes, from 20% to over 70%, thanks to 5 large-scale projects developed in collaboration with the players on the platform and its surroundings and to the development of a new energy mix.​
The total investment for all these projects is €46M to decrease CO2 emissions by 250,000 tons per year.​
These projects will make the Roussillon platform the first low-carbon chemical platform in Europe.​
The projects already carried out between 2011 and 2020 have enabled CO2 emissions to be reduced by more than 200,000 tons for steam production thanks to the installation of Suez's Robin biomass boiler and the recovery of waste steam from the Tredi Salaise 3 incinerator.​
The last projects to finalize the move away from coal by 2022 have been decided on at the end 2020 and are in progress.​
Reduce our environmental footprint, especially gas emissions, water effluents and wastes​
Reduction of Volatile Organic Compounds (VOC)​
​In essence, all SEQENS Group sites are working to reduce emissions of volatile organic compounds (VOCs) both in production workshops and in product storage facilities. The main techniques used for this purpose – in addition to the application of the principle of elimination at the source (capture of reaction, storage or fugitive emissions) – are cryogenic abatement and thermo-oxidation reactors (RTO). The latest RTO equipment installed is that of SEQENS Custom Specialties Bourgoin-Jallieu. ​
Between 2018 and 2020 SEQENS reduced VOC emissions by 10% (in grams/ton of product manufactured)​
Reduction of Chemical Oxygen Demand (COD)
​As with VOCs, we are continuously working on reducing the chemical oxygen demand of our aqueous effluents. All our effluents are treated in internal and/or external treatment plants and the processes used are constantly optimized. Thus, our objective of reducing COD has led to:​
the installation of a water treatment process reducing by 2 plant CDO at the SEQENS EDS Roussillon site​;
the construction of a biological station at SEQENS CDMO Couterne​;
the installation, at the SEQENS EDS Yangzy site, of an oxidation process for recycling 24kt of saline water through its Sodium Chloride supplier .
Between 2018 and 2020, SEQENS has reduced its DOC by 25% (in grams/ton of products manufactured)
Waste management
All our hazardous and non-hazardous waste is collected, identified, sorted and directed to recycling, reclamation or final treatment channels in accordance with current legislation. ​
In 2020, our recycling and/or reclamation rates varied between 60 and 65% depending on the sites and the nature of our waste.​
SEQENS is committed to reduce its waste by 15% by 2023.​
Water consumption
Our water consumption is strongly linked to the existence of production processes that are essentially energy-intensive and therefore require refrigeration to cool the materials produced – often drawn from "borrowed water" – but also to the extraction/separation operations of our active ingredients, which also consume a lot of water. All of our sites have launched water use maps to better manage and optimize their consumption. Some specific actions have been taken locally. SEQENS is also working on new technologies (Flowchem, biocatalysis, etc.) that will help reduce process water consumption because they are less energy-intensive.​
​Our consumption per unit of production has been reduced by 2% in 2020 compared to 2019. Total consumption has been reduced by more than 1.25 million M3 due in part to a volume effect.
Focus on responsible purchasing channels and preserving natural resources​
Responsible purchasing
A dedicated organization is managing a structured, shared and responsible program with 12 specific CSR commitments and, as a part of them, be a compliant, ethical and trustworthy business partner all along our responsible supply chain. Adherence to such a commitment illustrates SEQENS' willingness to guarantee continuous improvement everywhere where it operates. ​
To buy products and services that meet high standards of quality, regulatory, and Corporate Social Responsibility; ​
To Reinforce sustainable procurement of product and service by ensuring the reliability, quality, and traceability of purchases; ​
To prioritize collaboration with suppliers and partners that respect ethical, social, and environmental principles. ​
As a supplier of products and services, our CSR practices (social, ethic, environment, governance) are strongly linked to the business practices of our trading partners. International laws and regulations, such as Duty of Care, hold us co-accountable for non-compliant behavior in our supply chain. Our customers expect us to act responsibly and we owe this to future generations.​
As a major actor, we have to ensure that our trading partners understand the urgency of the matter and share our commitments to sustainability. According to this statement, SEQENS has chosen EcoVadis, a global CSR rating company based on international standards, to conduct individual sustainability performance assessments of its supply chain partners. At this stage, several suppliers  have already been assessed by EcoVadis. At midterms, the assessment will be progressively extended to a large part of our  identified partners within our supply base and the results of these evaluations will be integrated as a selection criterion into SEQENS' sourcing and supplier review processes.​
Preserving natural resources
In addition, we commit to preserving as much as possible natural resources by:​
increasing the percentage of our new natural cosmetic developments designed from by-product​
addressing our wastes and our by-product as raw material (Acetic acid as raw material for IPAC; Yangzy waste water after internal treatment becomes a raw material for soda producer/supplier; Roussillon tars as combustive for vapor generator; …​
regenerating good products from used ones as used solvents, distillates "residues", … (Chemoxy)​
​
​
​