Join the Seqens adventure!
Welcome to SEQENS
Joining Seqens is a unique opportunity to participate in an exciting growth project with a strong international dimension and a strong entrepreneurial spirit.
3,200 employees
9 countries represented
300 scientists, engineers and experts
24 production sites
7 R&D centers
+300 jobs
SEQENS LIFE
Our commitment
Respect and concern for people define our identity. Attentive to the territories where our facilities are located, Seqens is committed to the development of local initiatives that are important to the communities and the environment.
Diversity
Diversity has been built over time through our different histories, multicultural teams (9 countries and a diversity of nationalities) and the variety of professions carried out by our committed employees.
SD-CSR Policy
As a global player in pharmaceutical solutions and specialty ingredients, SEQENS is committed to making Sustainable Development and Corporate Social Responsibility a priority. Our strategy is based on these 4 main pillars:
Safety, Quality and Compliance
Climate change and Environment
Care and Social commitments
Innovation and Sustainable Value Creation
Support
PROMOTE YOUTH EMPLOYMENT
For several years, Seqens has been committed to promoting access to the labor market and employment for young people. As a socially responsible company, we are also a partner of Engagement Jeunes. Every year, we welcome work-study students and interns. Our policy aims to integrate and train them in the best possible way with a view to hiring them for one of the entry-level positions available in the company.
SUPPORT LOCAL COMMUNITIES
Seqens and its employees are committed to associations focused on these three themes:
Education, equality and solidarity issues: Education & joie, Institut Télémaque and À vélo sans âge
Sport and disability issues : Handi Amo and L'Everest en Sable
Rehabilitation assistance : L'entreprise des possibles
Our culture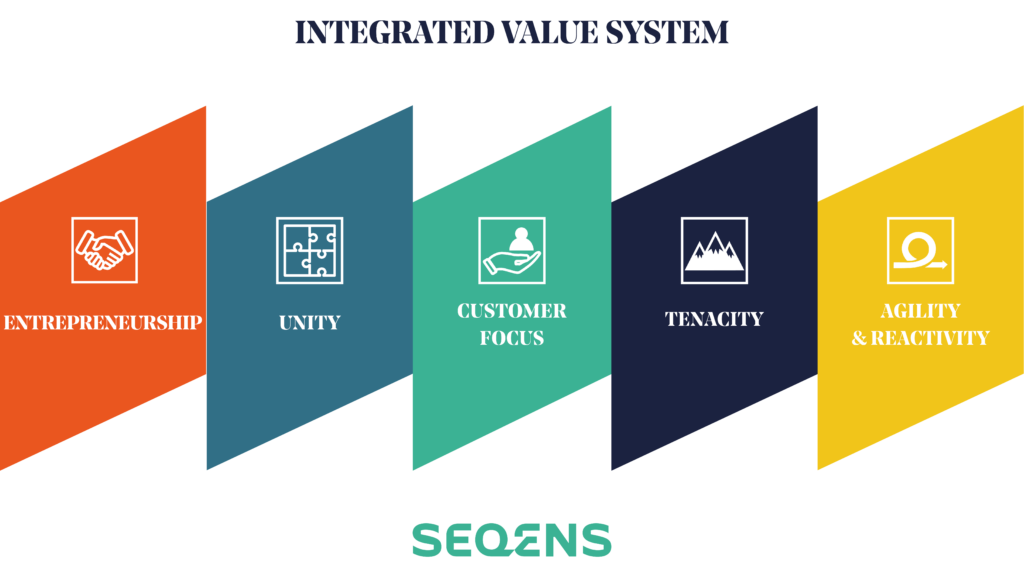 Promote initiatives to generate new ideas and opportunities and to push the organization forward. Act and be part of  the company's success.

Ensure a positive atmosphere that encourages teamwork, mutual assistance as well as employees' fulfillment. Promote collective objectives and successes rather than individual interests.

Provide best-in-class goods and services to create trusting and sustainable relationships.

Remain resolute and consistent despite hurdles in order to meet the objectives. Overcome challenges as a team.

Foster rapid decision making and adaptability in a changing environment.
Our opportunities
Join our 3,200 employees around the world and take part in ambitious projects and exciting assignments!
Our recruitment process
Receipt of your application via our Careers page (response to a job offer or spontaneous application), via one of our partners relaying our vacancies or via recommendation by a Seqens employee.

Your application will be reviewed by a Recruitment Partner. If your profile matches our requirements, we will get in touch to arrange a first-stage telephone interview. 

Following a successful telephone interview, we will arrange a personal interview (via HR team and operational team). These interviews may be face-to-face or video calls interviews and will allow you to discover more about the position, our organization and about us. 

After a successful final discussion, one of our recruiters will contact you to discuss the offer.

Once the offer is accepted, our teams will guide you through the final steps of the process and during your onboarding.
COVID-19 UPDATE : In spite of a difficult context and in order to respect the government's measures, we are continuing our remote recruiting by telephone and/or video.
My Seqens journey started with my internship in the cosmetics marketing department last year as part of my master's degree. I was excited to put my science knowledge to use, practice what I'd learned during my studies and familiarise myself with how a French company works on an international level. I was delighted to continue with Seqens as a member of the cosmetics sales team and I'm enthusiastic and proud to represent a company that strives to put innovation at the heart of their business.