Engaging with young people to create the talent of tomorrow
The objective of SEQENS' commitment to young people is to support and train the talent of tomorrow and the future employees who will make our industry grow.
SEQENS supports apprenticeships and trainings which represents up to 5% of our employees each year.
The SEQENS Group confirms its commitment to double the number of apprentices and trainees.
This is not only absolutely essential at a time when our young people have difficulties finding an internship or work-study program, but it is also important for a group like SEQENS, a leader in pharmaceutical solutions, to maintain its skills and know-how on a long-term basis. The SEQENS group has hired 96 work-study students and 40 interns for the start of the 2020 academic year. A total number of students multiplied by three compared to the start of the 2017 academic year.
Growth of the number of interns and apprentices within SEQENS group from 2017 to 2021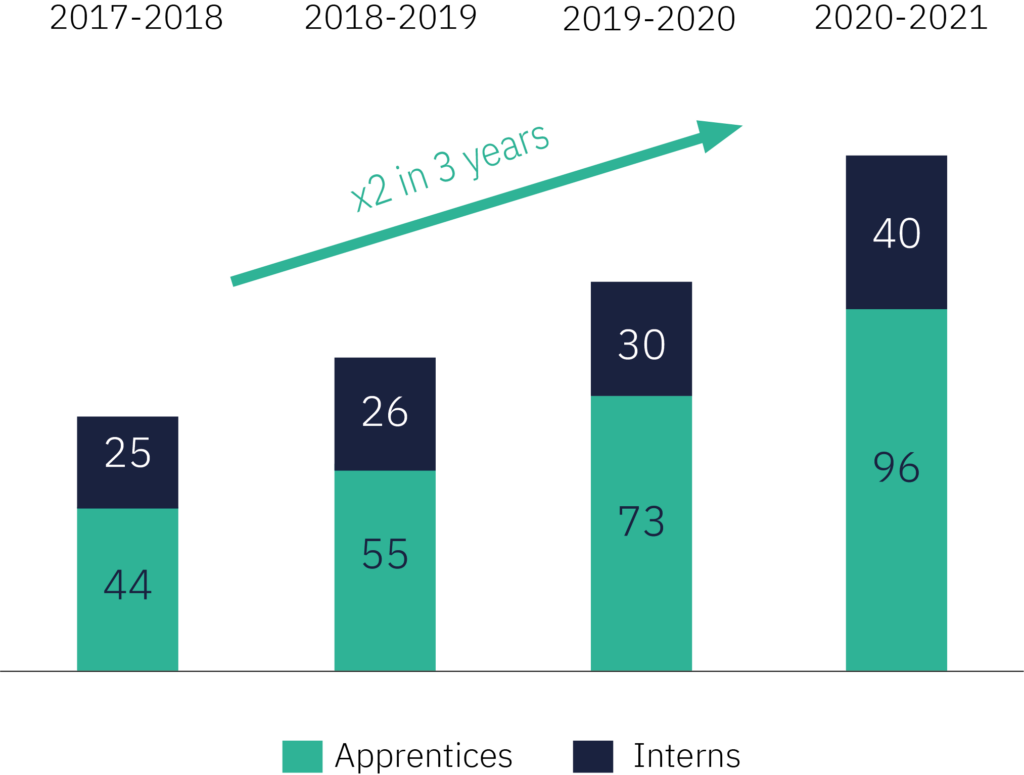 In September 2020, more than 50% of the work-study positions offered were in the fields of production, maintenance, processes and EHS. The goal is to meet the growing demand for training in our industry. Transmission and maintenance of our expertise and the relevance of the training program offer radical career changes to people who want to discover the world of industry and work with us on challenging projects.
Each year, the group sets up actions in favor of the recruitment of work-study students and interns. Partnerships with schools, site visits, forums and various interventions with students are levers to enable them to engage with the players in the pharmaceutical and chemical industry.
In 2021, Engagement Jeunes rewarded SEQENS for its commitment to its interns and apprentices. The company was rated very positively by the young people trained as part of it. This evaluation and the commitment of SEQENS, which is becoming increasingly important, have enabled the company to be labeled "Employer of Choice."
Support local communities
The objectives for SEQENS' commitment to the ProBono and philanthropic activities are:
Promote and coordinate patronage on selected themes in accordance with SEQENS' solidarity value and aimed at sustainably supporting civil society;
Promote the personal commitment of employees and its recurrence on the chosen themes;
Contribute to the pride and commitment of employees through the Great Place To Work program;
Supporting the image of a committed and responsible company with civil society.
The themes chosen are in line with the solidarity value of SEQENS and are promoting the civic act of each of our employees:
Helping poor, sick and disabled people
Participating to education, vocational integration and training of young people
Supporting local public health initiatives
Contributing to climate and biodiversity actions
SEQENS contributes to more than 30 local, national or international associations all over the word, either through a direct contribution of its employees (times, paid leaves, …) or through direct donations of the group.
Dialogue and building trust with all of our stakeholders
In order to transparently manage its CSR practices, SEQENS collaborates with EcoVadis, an organization offering a complete and independent Corporate Social Responsibility (CSR) assessment service. It is based on the objective analysis of 21 criteria covering the 4 themes of environment, labor & human rights, business ethics and supply chain.
To continuously improve its ambitious CSR approach applied to its activities all over the world, SEQENS has 22 of its operational entities evaluated by EcoVadis. The group's ambition is to reach the "Platinum" or "Gold" level for more than 80% of its entities in 2021. These levels of excellence respectively represent the top 1% and top 5% of the entities of equivalent size and sector of activity certified by EcoVadis.
22 assessments covering all our operational sites have already been completed. 7 have obtained the Platinum level, 9 the Gold level, 5 the Silver status and 1 without certification.
EcoVadis assessments are available to any stakeholder upon request.
Evolution of EcoVadis certifications of SEQENS entities (March 2021)