Pharmaceutical solutions & specialty ingredients
Seqens is an integrated global leader in pharmaceutical solutions and specialty ingredients, delivering outstanding performance, unrivalled market responsiveness and custom-made solutions to our customers.
Unique expertise to develop and produce highly-complex molecules
Taking science to the next level
An integrated partner in pharmaceutical solutions and specialty ingredients
Entrepreneurship, reliability and responsibility
A CONTINUUM OF SKILLS AND TECHNOLOGIES
Two main business activities supported by a broad range of cross-functional technologies, R&D expertise and global assets.
STRONG R&D CAPABILITIES TO DEVELOP DISTINCTIVE, CUSTOM-MADE SOLUTIONS, TO SPEED UP OUR CLIENTS' PROJECTS BY ADDING VALUE.
10 state-of-the-art R&D centers in the world.
Seqens unique range of technologies enables us to manufacture complex molecules for small- and large-scale demands
Our offer
Custom research & innovation
Custom development
Custom manufacturing
Specialty generic
Essential APIs & intermediates
Advanced specialties
Our History
Seqens story starts in 2003. Since then, the group has grown to become a major leader in pharmaceutical solutions and specialty ingredients.
Our values
Driven by true entrepreneurial spirit, our success at Seqens is built on our culture of excellence that aims to provide our customers with the best product performance.
Moreover, respect and care for individuals and nature define our identity. The company always aims to provide collaborators with working conditions that are conducive to their professional development and accomplishing their goals. Attentive to the locations where we are based, Seqens is committed to local development that cares for communities and the environment.
Finally, Seqens and all of our affiliates are committed to complying with the laws and regulations (especially anti-corruption laws) that govern our activities around the world by following a strict line of conduct. Seqens aims to ensure that all persons involved in Seqens' business relations (employees, suppliers and customers), and in particular those who are hired or act in our name, commit to complying with the legal provisions and rules defined by the Company's Code of Conduct while conducting their activities.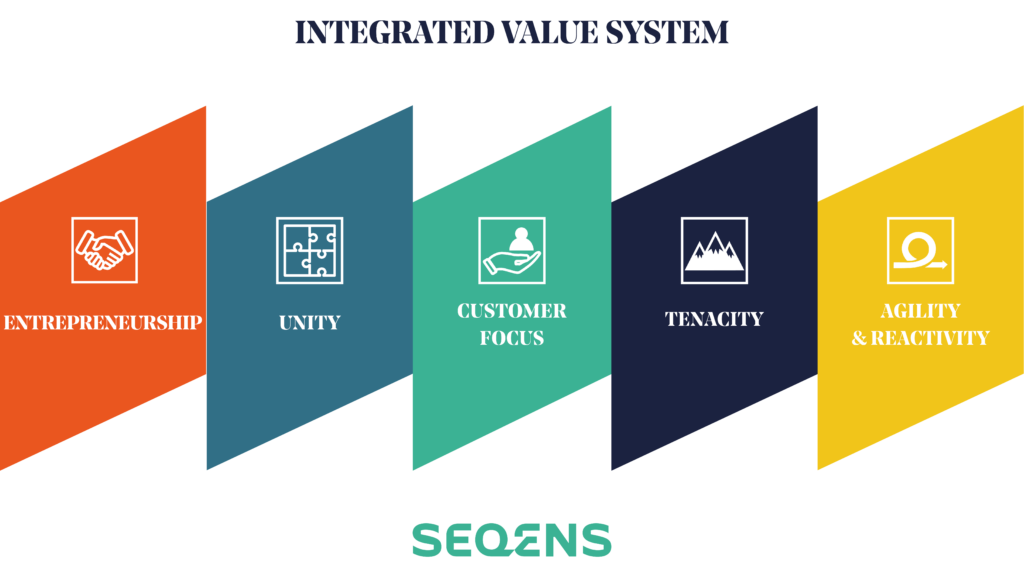 Promote initiatives to generate new ideas and opportunities and to push the organization forward. Act and be part of  the company's success.

Ensure a positive atmosphere that encourages teamwork, mutual assistance as well as employees' fulfillment. Promote collective objectives and successes rather than individual interests.

Provide best-in-class goods and services to create trusting and sustainable relationships.

Keep resolute and consistent despite hurdles in order to meet the objectives. Overcome challenges as a team.

Foster rapid decisionmaking and adaptability to changing environment.
SEQENS key figures
0
scientists, engineers and other experts