SD-CSR
2017 Novacap Sustainable Development award ceremony
Since 2014, Novacap organizes CSR-SD award ceremony at the group level. This event aims at rewarding relevant projects regarding their sustainability impact.
In September 2017 occurred the fourth edition of sustainable award ceremony in presence of all group's executive managers
Projects were eligible in 5 categories: Safety, Social, Environment, Innovation and Economic. 3 projects are nominated and 1 winner is rewarded in each category.
Each year jury is established and chaired by Sophie Flak, President of Novacap Corporate Social Responsibility Committee. The jury selection criteria relied on the 12 commitments framework defined in Novacap SD Strategy.
Moreover, "implementation criteria" were also considered:
Method used and implementation quality
Commitment of stakeholders and employees participation
Ability to be transposed within the Group
Clarity of the communication / documentation
CSR-SD trophies participation show a successful involvement of Novacap employees:
In 2014, 37 projects were submitted by 260 employees
In 2015, 33 projects were submitted by 218 employees
In 2016, 37 projects were submitted by 255 employees
In 2017, 41 projects were submitted by 400 employees
In 4 editions, (from 2014 to 2017 ) we succeed to double the consolidated savings obtained through the achievement of the submitted projects .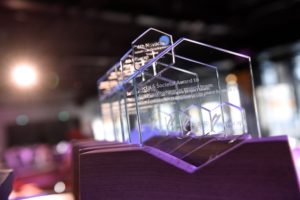 This year the nominated projects were:
Social and Societal
Pharma & Cosmetics – Uetikon – Lahr – "Company Awareness Program for Young People"
Mineral Specialties – Novabion – Nogent l'Arthaud – "Revamping and Renovation of a basis process control systhem cabinet by student's team"
Winner : Corporate – Headquarters – Ecully – "New Headquarters and its better place to work"
Safety
Corporate – Headquarters – Ecully – "Process Hazard Analysis (PHA) process Implementation"
Pharma & Cosmetics – Puyuan – Zhenjiang – "Dehydration of sludge"
Winner : Performance Chemicals – Novapex – Roussillon – "Standardization of fluids pipes consigment process"
Innovation
Corporate – Headquarters – Ecully – "PolycAPP', a new digital application for a better marketing approach"
Mineral Specialties – Novacarb – Nancy – "Bicarbonate for Personal Care applications"
Winner : Performace Chemicals – Novapex – Roussillon – " Tosca and its new catalyst for highest quality DIPE"
Environment
Mineral Specialties – Novacarb – Nancy- "Noise reduction plan for a better local community integration"
Mineral Specialties – Novabion – Nogent l'Arthaud – "New furnace treatment for drasctic dust emission reduction"
Winner : Mineral Specialties – Novabay – Singapore – "New greenfield Bicarbonate plant and its reduced environmental impact
Economic
Performance Chemicals – Novapex – Rousillon – " Isopropanol alcool quality improvement for electronic market"
Pharma & Cosmetics – Puyuan – Zhenjiang – "100% Methyl Salicylate first pass yield for Phenol content
Winner : Pharma & Cosmetics – Headquarters – Ecully – " Standard Quality Documents for a better dialogue with Customers